Welcome to AAB's Online Store
Join AAB now to receive significant SAVINGS on your order!
(Please allow up to three business days to process a new member enrollment.)
Product Information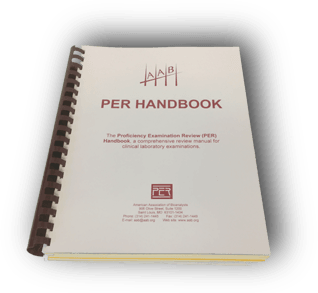 PER Handbook
AAB Members: $75.00
Non Members: $95.00

Members SAVE $20!
Price: $95.00
A must when studying for state licensing or private certifying exams, or as a convenient reference for day-to-day laboratory work.
Completely revised and updated;
25% bigger than last edition, includes 586 pages of the latest information about techniques in clinical chemistry, hematology, blood banking, bacteriology, parasitology, mycology, virology, immunology, serology, laboratory math, quality control procedures, and laboratory supervision/management;
Drawings, charts and diagrams;
Clean, concise information written in an outline format;
Excellent study guide for novices, students, recent graduates, and specialists no longer familiar with all lab disciplines who are studying for an exam or considering expanding into other disciplines;
Helpful guidelines for studying and taking examinations;
Convenient reference for day-to-day use in the clinical laboratory;
In-depth guide to laboratory math calculations; and an
Expanded index for easy reference.
Edition: 2007
AAB
Online Courses
New online courses in molecular diagnostics, andrology, embryology, laboratory management, and more.

Quick Links
Customer Service: 1-800-457-3332 | Local Phone: 314-241-1445 | Email: aab@aab.org