CRB Pre-Conference Workshop – Alert and Alarmed - A Mini-Symposium on IVF Laboratory Safety and Alarm Monitoring
May 15, 2019
AAB Annual Meeting and Educational Conference
May 16-18, 2019
23rd Annual CRB Symposium – Essential Elements of the Modern IVF Laboratory
May 16-18, 2019
• CRB Symposium Announcement (PDF)
• CRB Symposium Preliminary Schedule (PDF)
Quick Links
Preliminary Schedule
Abstract Submission
Hotel Reservations
AAB/CRB Session And CE Tracking Policy
Financial Aid Application
The 2019 CRB Pre-Conference Workshop, AAB Conference and CRB Symposium will be held May 15-18 at the Sheraton New Orleans Hotel, 500 Canal Street, New Orleans, Louisiana. The meeting committee is planning a stellar program, including topics on the latest science and technology, as well as a variety of networking opportunities and social events.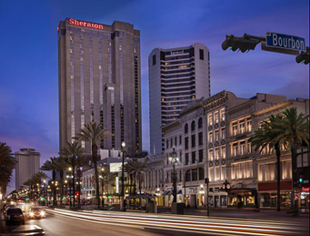 The Sheraton New Orleans is a four diamond hotel situated in downtown New Orleans, across from the French Quarter. The spacious guestrooms reflect New Orleans charm and many have views of the Mississippi River or French Quarter. Relax by the rooftop pool and sundeck or visit the fully equipped fitness center for a daily workout. Stop by the Lobby Starbucks for a carryout to enjoy while catching up on the daily news. Sample regional cuisine at the Roux Bistro and enjoy cocktails at the Pelican Bar.
The Sheraton provides easy access to world-class dining, live music, great shopping and more. Just steps from the famed French Quarter, the Sheraton is within walking distance of Bourbon Street, the Riverwalk Shopping Mall, the Port of New Orleans and many of New Orleans' famed restaurants and nightspots. Board the nearby historic Canal Street Streetcar Line and venture out to experience all parts of the city.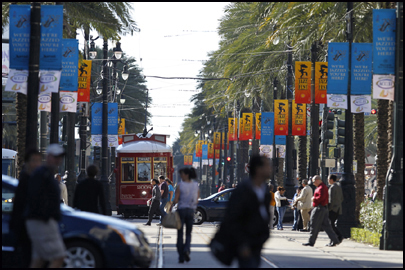 So start making your list – breakfast on café au lait and sweet beignets at Café du Monde, tour the historic St. Louis Cathedral, see artists at work in Jackson Square, lunch on New Orleans' hallmark muffuletta sandwich at Central Grocery, take a streetcar ride through the Garden District, browse antique and specialty shops on Magazine Street, gallery-hop on Royal Street, enjoy a traditional Creole dinner at Antoine's, move to the beat of live jazz on Frenchmen Street, and much more. You will enjoy your visit to the Big Easy. The AAB/CRB group hotel rate will be available three days prior and three days after the Conference/Symposium, so schedule a few extra days for your visit. Plan your New Orleans trip now.
Hotel Reservations at the Sheraton New Orleans Hotel
The group room rate is $179 per night, single or double occupancy, plus applicable taxes (currently 13.45% plus $3 Occupancy Tax plus a Tourism Support Assessment of 1.75%). To make your hotel reservations, call the Sheraton New Orleans at 1-888-267-7033 or 1-504-525-2500. Be sure to ask for rooms reserved for the American Association of Bioanalysts. April 23, 2019, is the deadline date for guaranteed availability of hotel rooms. We anticipate rooms will go quickly, so reserve your space early. Contact Shannon Soos at the AAB office if you have any problems reserving a room: (314)241-1445.
Mark your calendar for the 2019 AAB Conference and CRB Symposium: May 16-18, 2019. Details will be coming your way soon.
---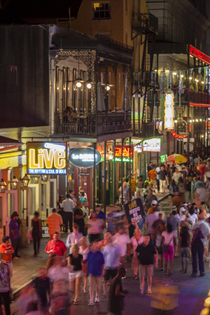 Preliminary Schedule
Wednesday, May 15, 2019

8:00 a.m.-5:00 p.m. - CRB Workshop

Thursday, May 16, 2019

8:00 a.m.-5:30 p.m. - Educational Program
6:00 p.m.-7:00 p.m. - Welcoming Reception

Friday, May 17, 2019

8:00 a.m.-5:30 p.m. - Educational Program
6:00 p.m.-7:00 p.m. - Poster Session and Reception

Saturday, May 18, 2019

8:00 a.m.-5:30 p.m. - Educational Program
---
Abstract Submission
Submit an abstract for oral presentation* or for the poster session at AAB's Annual Meeting and Educational Conference/CRB Symposium, May 16-18, 2019, at the Sheraton New Orleans Hotel in New Orleans, Louisiana.
Authors are encouraged to submit titles and abstracts for consideration in Assisted Reproductive Technology or Traditional Laboratory (chemistry, microbiology, hematology, immunology, molecular diagnostics, environmental, and public health).
All abstracts are eligible for consideration for one of two $250 cash prizes.
*Only titles/abstracts regarding Assisted Reproductive Technology (ART) topics will be considered for oral presentation.
All assisted reproductive technology abstracts accepted for oral or poster presentation will be published in Reproductive BioMedicine Online.
Membership in the AAB and the CRB is not a requirement for submitting an abstract. There is no limit to the number of abstracts you may author. However, the first author or person submitting an abstract(s) must register for the Conference/Symposium and present the abstract or be present during the poster session. Oral abstracts are tentatively scheduled for Friday afternoon, May 17, and the poster session will be held on Friday evening, May 17.
Deadline to submit is March 15.