08/11/2023
Newsletter
The College of Reproductive Biology (CRB) is a not-for-profit special interest group of the American Association of Bioanalysts (AAB).
← CRB Newsletter, Vol 12, No. 1 Main Page
---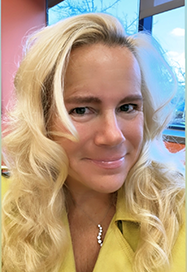 From the CRB President
Charlene A. Alouf, Ph.D., MBA, HCLD/TS (ABB)
CRB President
From the CRB President
Hello CRB members; I hope that you are having a wonderful summer.
Unfortunately, I was unable to attend the 2023 meeting in Vegas, therefore I want to take this opportunity to introduce myself in case we have never met. I do look forward to seeing everyone next year! Dr. Angle, past president, and the planning committee are busy refining the 2024 CRB meeting, once again in the fabulous JW Marriott Vegas locale. Mark your calendars and perhaps start thinking about your abstract submissions.
Feedback from the 2023 AAB/CRB meeting was well received and promptly discussed with last year's committee members. We thank you for all the positivity and constructive comments. In addition to revising the structure to address the concerns and suggestions, the Board recognizes that the demographics and backgrounds represented by the current member pool is shifting. Current membership in the CRB represents almost a 10% increase over that of 2019; many are new or recent members to the reproductive laboratory community. This shift dictates the need for leadership training and workshops for next generation leaders. We hear you and in response have formed a multigenerational subcommittee with an initiative to plan for regional workshops staffed by current leaders in our field.
Stay tuned for an email survey to evaluate your needs and to assess regional availabilities. The CRB staff, officers and board members are committed to providing educational resources for not only continuing education for all but to ensure the new generation of members are prepared for their future roles in laboratory supervision and directorship.
Lastly, I want to congratulate the newly elected CRB officers and board members and look forward to our year together:
CRB President-Elect Melanie Clemmer, Ph.D., HCLD(ABB)
CRB Secretary Eva Schenkman, Ph.D., M.Sc., HCLD/ELD/TS/CC(ABB)
CRB Director Member Michael Baker, Ph.D., HCLD/TS(ABB)
CRB Supervisor Member Linda Morrison, M.Sc.
CRB Medical Technologist Member Jaderica Smith, M.Sc., MT(AAB)
Chair of the CRB Meeting Committee Marlane Angle, Ph.D., HCLD/CC(ABB)
Please consider getting involved in the CRB committees in the future. Reach out to the CRB office or to me directly with comments or suggestions.
Respectfully,
Charlene A. Alouf, Ph.D., MBA HCLD/TS (ABB)
CRB President
Charlene.alouf@gmail.com
CRB Symposium Returning To JW Marriott ⇒