06/15/2022
Newsletter
The College of Reproductive Biology (CRB) is a not-for-profit special interest group of the American Association of Bioanalysts (AAB).
← CRB Newsletter, Vol 11, No. 1 Main Page
---
Under Pressure: A Survey on Stress and Clinical Embryology
Giles Anthony Palmer, B.Sc., HCPC registered Clinical Scientist
There has been more focus in recent years on wellbeing in the workplace, but it is surprising how little we know about the occupational demands and stress on reproductive scientists while mental health in many other professions including medical professionals and healthcare providers is very well documented (1,2). Only a few small national studies have addressed the occupational demands of the clinical embryologist. (3,4)
While investigating stress and burnout in our profession through an international on-line survey, it was an honour to receive the prize for the best poster at Fertility 2022 (5) and equally rewarding to have the opportunity to speak about this topic at this year's SWES, Arizona, 2022 whose following roundtable discussion generated a lengthy, heated and heartfelt debate.
Clinical Embryology is a rewarding yet demanding occupation and is unlike any other medical laboratory profession, challenges are multiple:
In the lab there is little automation and procedures are strongly dependent on the dexterity of the embryologist. Focus, composure, and hand eye coordination are essential skills; and the nature of the job demands a high level of personal commitment.
There can be considerable interaction between the clinical embryologist and the patient, a skill not typically taught in scientific training and regulatory and administrative demands have led to a large part of the scientists' day spent with office duties and increased paperwork (6)
All these workplace stressors and much more can lead to prolonged periods of anxiety and stress. The perceived disparity between the demands of the job and the workplace resources (either material or emotional) is a medically recognise term called "Burnout"(7).
The International IVF Initiative conducted an international survey using the principals of the Maslach Burnout Index (8) in the context of relevant questions to reproductive scientists.
The survey consisted of thirty-three cross referenced questions either using a 5-point Likert scale answer system (categories being from strongly agree to strongly disagree) or questions requiring narrative answers.
Participation was anonymous and distributed was via email to the subscribers of the International IVF Initiative, members of the UK's Association of Reproductive and Clinical Scientists, and social media platforms and forums between 6th May-5th June 2020.
A total of 1336 submissions from 85 countries were valid. Most participants were female (73.0%), but regional differences existed. Australia and the UK had the highest female to male proportion (90%, 87% respectively) while Asia and Middle East had the lowest (53%, 59%).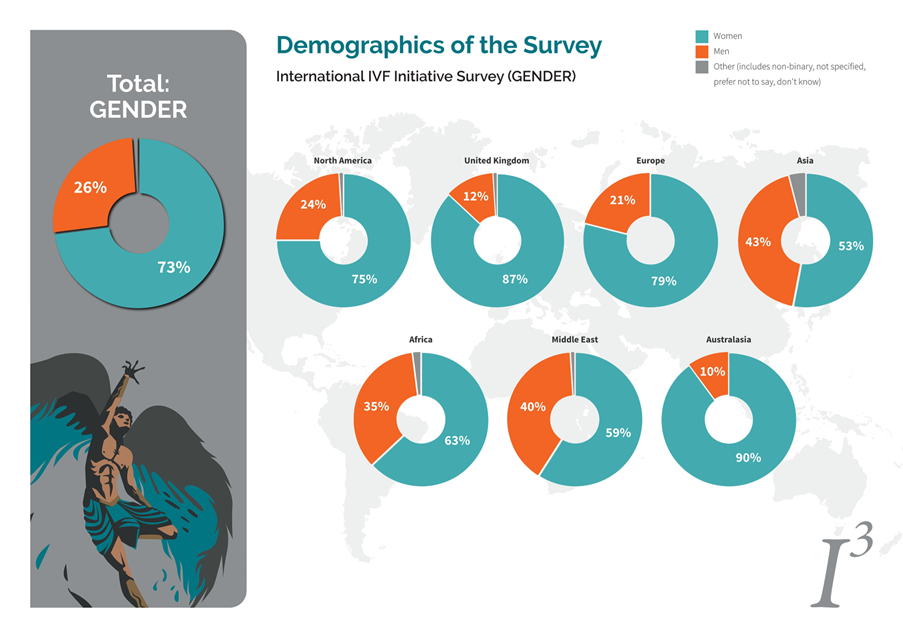 Reflecting the maturity of the IVF industry against the emerging markets, the years of experience varied considerably from region to region. Although the surveys total age groups were evenly spread overall, this study discovered that the highest proportion of embryologists with experience >20years came from N. America with a considerable 44%. This contrasted drastically with all the other regions. The regions with the lowest proportion of workers >20years consisting of a population with the highest embryologists with 1-5years experience came from Asia, Africa and M.East.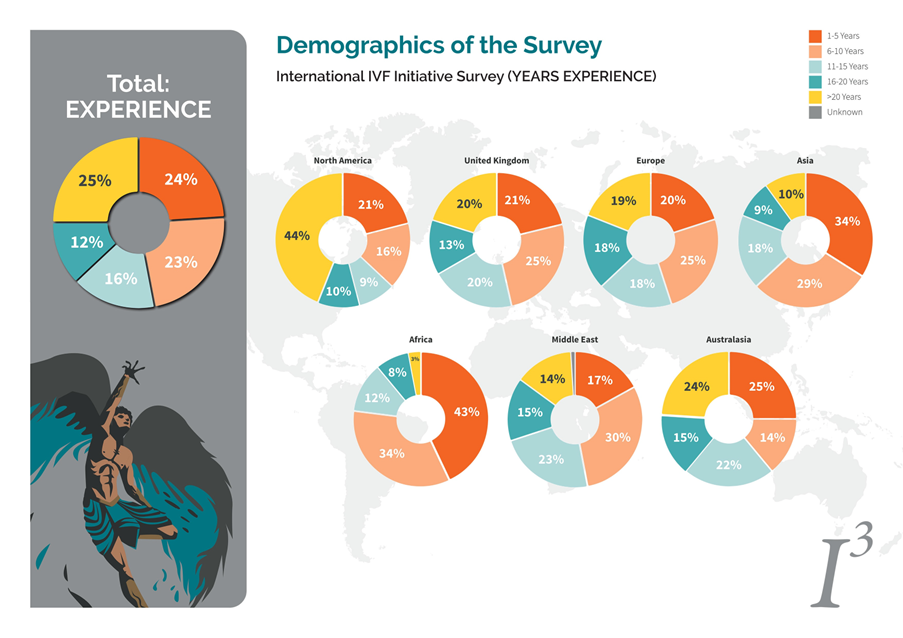 In 51% submissions work related emotional exhaustion was reported, 41% described mental health problems and 50% expressed an increased feeling of cynicism and detachment from the job. A further 56% stated a drop in productivity and low morale. This figure of burnout and exhaustion is comparable to other stressful professions such as in the healthcare sector with 43-46% (2) and emergency response workers (48.1%, 9).
Although 25.0% had considered leaving their job, a question about the degree of absenteeism gave the most definitive and absolute answer; both women (64.7%) and men (60.9%) strongly disagree that they have been absent from work due to burnout.
Often absence from work is linked to "job abandonment" and is frequently seen as a precursor for resignation (10). Perhaps embryologists either cannot take time off work to recover or feel obligation bound to attend their place of work?
Most participants agreed that there is a lack of in-house resources to address stress (61.0%) and women felt more strongly that present training programs are inadequate to prepare for the demands of the job (P=0.0094). Also, a large majority of women agreed that the workplace tolerated unfair/discriminatory behaviour to a significant degree (P=0.013).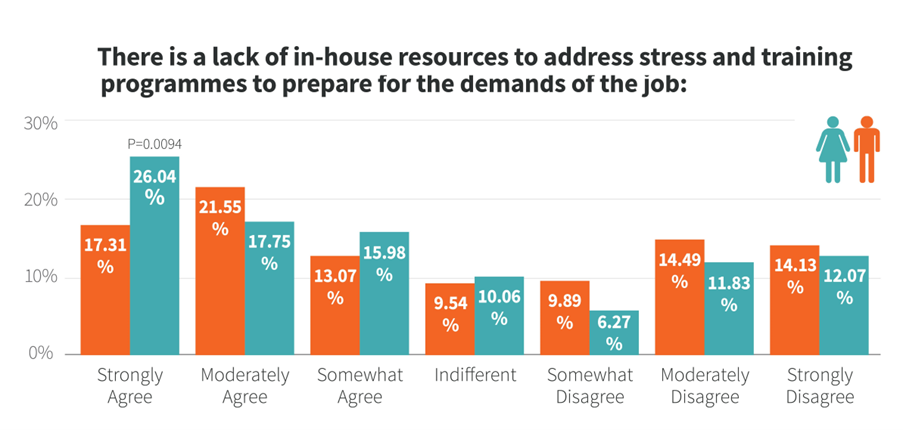 The most frequent additional comments concerning aggravating factors at work were high workload (52.0%), poor leadership (51.0%) and little work-life balance (35.0%).

Similarly, when asked their opinions to mitigate burnout, adequate staff numbers (28.7%), strong leadership (24.0%), and team building (20.9%) were suggested.
On a positive note, reporting on their current workplace, a large proportion believe they have adequate training and resources to perform their clinical work (47%), an adequate degree of autonomy (54%) in an establishment that values work sharing and teamwork (51%).
We conclude that a significant proportion of clinical embryologist's report signs of burnout. This ranged from 20-51% of the embryologists in this survey. If this reflects the global workforce then this industry has a problem.
The demand and precise nature of our work together with adverse work conditions may contribute to emotional exhaustion, loss of productivity and low morale.
These insights are relevant both to educators, who may better prepare the students and prospective trainee embryologists to the occupational demand and also to managers of clinics who must change to nurture a workplace offering adequate in-house support, and fair work/life balance.
It should now be the intention of all stakeholders to shed light on this topic, create constructive changes in the workplace while avoiding blame.
REFERENCES
Mickey Trockel and Nikitha Krishna Menon. Creating a Culture of Wellness: Art and Science of Physician Wellbeing: A Handbook for Physicians and Trainees.Pages 19-32 Springer ISBN 978-3-319-42135-3
Stefan De Hert. Burnout in Healthcare Workers: Prevalence, Impact and Preventative Strategies Local Reg Anesth. 2020; 13: 171–183. doi: 10.2147/LRA.S240564
López-Lería, B., Jimena, P., Clavero, A., Gonzalvo, M. C., Carrillo, S., Serrano, M., López-Regalado, M. L., Olvera, C., Martínez, L., & Castilla, J. A. (2014). Embryologists' health: a nationwide online questionnaire. Journal of assisted reproduction and genetics, 31(12), 1587–1597. https://doi.org/10.1007/s10815-014-0352-7).
Priddle H, Pickup S, Hayes C; Association of Reproductive and Clinical Scientists (ARCS). Occupational health issues experienced by UK embryologists: informing improvements in clinical reproductive science practice. Hum Fertil (Camb). 2021, 18:1-17. doi: 10.1080/14647273.2021.1871782.
Giles Palmer, Bryan Tully, Marlane Angle, Shaista Sadruddin, Colin Howles, Thomas Elliott, Sarah Szvetecz , Zsolt Peter Nagy, Jacques Cohen. Occupational demands and resultant stress of reproductive scientists: Outcomes from an international survey (2022) P065 Fertility 2022, 4-8 Jan 2022
Catarina Moreira, Peter Sprober, Anna Mclaughlin, Giles Palmer, Jeanette Mackenzie. The changing role of the embryologist - data management in an electronic age. P 0066 11th Alpha Biennial Conference. 5th-8th of May, 2016 Copenhagen, Denmark.
Anon. International Classification of Diseases 11th Revision ( 2021) https://icd.who.int/en
Maslach C, Leiter MP. Understanding the burnout experience: recent research and its implications for psychiatry. World Psychiatry. 2016;15(2):103-111 doi: 10.1002/wps.20311
Alexander P. Wolkow, Laura K. Barger, Conor S. O'Brien, Jason P. Sullivan, Salim Qadri, Steven W. Lockley, Charles A. Czeisler, Shantha M. W. Rajaratnam (2019). Associations between sleep disturbances, mental health outcomes and burnout in firefighters, and the mediating role of sleep during overnight work: A cross-sectional study. J Sleep Res. 2019 Dec; 28(6): e12869. doi: 10.1111/jsr.12869
John Newman. Predicting absenteeism and turnover. Journal of Applied Psychology (1974) Vol. 59, No. 5, 610-615
Earn ABB/PEER Continuing Education Credit Attending Postgraduate Courses at ASRM 2022 ⇒