03/16/2016
From the Secretary


Secretary Report – 2015 ASRM Review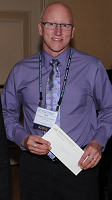 Dave Walker, M.Sc., ELD/TS(ABB)
Baltimore was the backdrop last October for the 71st annual meeting of the American Society for Reproductive Medicine. Attending educational conferences is a great way to stay informed about current research and advances in our field. It's also a good way to stay connected with colleagues and share information.
The Post-Graduate courses focused for embryologists were "Preimplantation Genetic Diagnosis (PGD) Impact on Reproductive Outcome of Poor Prognosis Assisted Reproductive Technology (ART) Patients with Next-Generation Sequencing for Aneuploidy Testing: Is the Time for Routine Testing Here?", and "Oocyte or Embryo Cryopreservation in Clinical Practice and the Postmodern Society". Both courses were well attended, insightful and relevant for embryologists at any level in their career.
The vendor exhibits were impressive as always. It's important to visit these booths and take advantage of having so many knowledgeable representatives sharing information about new and improved equipment, supplies and services. Whether the lab you work in is new state-of-the-art, expanding its services or ready for a face lift it's great to have professional and personable contacts you can trust.
It was refreshing to hear that nearly 300 CRB members visited the AAB Booth and submitted CEU transcripts. ABB exams were also given during this meeting with 40 participants. Hats off to you for your perseverance and the hours of study and preparation for these exams. And a special thanks to the AAB staff for their efforts in putting these events together. Education is so important for not only advancing our practices, but us personally. Let's never stop learning!
If you were unable to attend ASRM or missed sessions that peaked your interest, visit the ASRM.org website for links to ASRM eLearn® or www.onlineevent.com/ASRM/ for audio recorded sessions.
Hope to see you all at the Red Rock Resort this May!
Dave Walker
Secretary of the Board