02/05/2013
Meeting Committee - Symposium Program


Meeting Committee - Symposium Program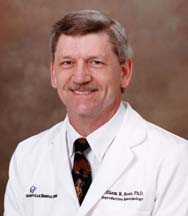 William R. Boone, Ph.D., HCLD/ELD/CC(ABB)
Dear Colleagues:
The Meeting Committee of the College of Reproductive Biology (CRB) has organized a wonderful program featuring an outstanding faculty for this year's annual meeting. The meeting will be held at the Golden Nugget in Las Vegas, Nevada, from Thursday morning, May 16, through Saturday morning, May 18.
There will be a diverse set of topics covered at the annual meeting. The andrology portion of the meeting will include an in-depth look into infectious diseases as they relate to assisted reproduction, including the latest information on HIV, hepatitis B and C. There will also be a discussion on the new WHO Guidelines for semen analysis, how to improve your IUIs, and the effect drugs and homeopathic remedies have on semen parameters. In addition, there will be a discussion on the effects that BMI and body fat have on semen parameters.
The embryology portion of the conference will also contain a variety of topics. There will be a discussion on time-lapse cinematography of embryos, non-invasive embryo evaluation, and blastocyst collapse. In addition, there will be a discussion on which embryos to cryopreserve, freezing and shipping of vitrified specimens, and blastocyst versus cleavage transfer. Besides these exciting topics, we will have the latest information on searching for a less toxic vitrification solution, culturing in a protein-fee medium, and pertinent information on mineral oil.
There even will be general talks for the andrologists as well as the embryologists. There will be a discussion around FDA rules and regulations as they relate to andrology and embryology – why you can end up in court. If you have given any thought to renovating or building a new laboratory, there is a talk for you at this meeting. To top off the conference, our keynote speaker will discuss environmentally induced epigenetic transgenerational inheritance of phenotype and disease.
The guest speakers include Jaffar Ali, Barry Behr, Joe Conaghan, Betsy Cairo, John Hughes, Sangita Jindal, Dean Morbeck, Steve Mullen, Bill Roudebush, Michael Skinner, Paul Turek and Rich Weiskopf. In addition, to these speakers, there will be a time designated for oral presentations as well as a poster session.
Special events include a Welcoming Reception on Thursday evening and a second reception on Friday evening that will feature poster displays.
As always, I look forward to meeting you and having practical discussions of topics that directly impact our clinical practice. Bring a friend and join us for this exciting conference where the latest in scientific knowledge will be discussed in an atmosphere of camaraderie. I look forward to seeing each of you at the meeting!
Sincerely,
Bill Boone
Chair
CRB Meeting Committee